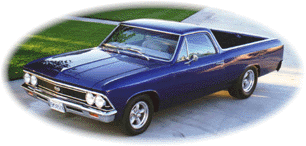 Customer Comments...

All of us at Sloan's El Camino/Chevelle
sincerely feel that the greatest
compliment our customers can give,
is the referral of our Company
to their friends.

Thank you for your trust!

Here is a sampling of comments from
a few of our satisfied Customers.

Thanks Sloan,
The parts I ordered arrived on schedule, been a pleasure to find a store which can provide the needed and "hard to find" parts for my older El Camino. Having been stored for the last 15 + years, My 65 has come back to life with fresh (all original ) motor, suspension, trans and interior. (not bad for a barn yard find and a purchase price in 1987 of $75.00.... yes REALLY ... $75.00) I'll drop a picture your way sometime to show it progress. THANKS AGAIN SLOAN ! Steve McCarthy
I just wanted to drop you a line to say Thank You. With your knowledge and expertise, changing my 1964 El Camino over from manual steering to power steering only took 5 hours and it works really well. All the parts bolted right in! It was so nice not having to fabricate any of the parts to make them fit. I have found in the past buying things from auto part stores or even some after market Chevelle specialty restoring companies, trying to get the proper part is a real challenge, and there is always some problem making things fit exactly like it came from the factory. I have realized after talking to you on the phone I have found a person that knows what he is doing. When I explained to you what I wanted to do, you told me what I needed and sold me the right parts with no problem. I will be ordering more parts from you as the need arises. Thank you again, Jack

Just a note to let you know I got my bed trim the other day. Nice job!!! I was very pleased with your honesty and help. Thank you for helping me to complete my El Camino. Scott

The buttons have been received. I appreciate the fact that you sent the chrome part also. Thank you for your honest and dependable business. I will suggest your name as a contact for Chevelle parts. Mike

I just wanted to let you know that I have received the 72 Elky door panel I ordered from you and it is just what my old truck needed. It came packaged very well and it cleaned up great! I will keep your business card on hand as it seems like I am always needing something for my Elky and/or my 70 Chevelle. Thanks again! Jay

I e-mailed you about my cousins 1964 El Camino and much to my surprise I heard back from you the very next day! I gave my cousin Mike from Alabama the info and he contacted you and is now getting the parts he has long been after. I wanted once again to say thanks! Your friend the truck driver Larry. Have A Great One !!!

I just received the inner fender and battery tray for my 67' El Camino. It was wrapped up well and came in great shape! The best thing though is your price, your knowledge and your slogan. So true...so true! Thanks again for you help and parts! Hank

My doors arrived today, in good condition. Thank you for going through the extra work of packaging them nicely. Ed

Just received the fender. It looks great. Thanks a lot. I like the way you took care in wrapping it and I will let my friends that own Chevelle's know to look you up when needing parts. Thanks again. J.

Just wanted to say thanks for the fast service on shipping the 64 El Camino bench seat to me. It arrive in good condition and I was very pleased that it was a better seat than I expected. It was just what I was looking for, priced right and not only in very good condition but also the perfect color. I really appreciate that you did not mis-represent the product. I will certainly recommend you to others. Neil

Thank you so very much. The part arrived on Friday in very good condition. Thank you for all of your help in this problem. Clair

Thanks for the 69 El Camino dash panel. I think it will do just fine. I look forward to doing business in the future. John

I wanted to tell you that the air conditioning core you sent me for my 64 El Camino works perfect. Thank you. Now I would like to know if you can help me find a bell housing cover for the same El Camino. It's a 283 with the automatic on the floor. Thanks. Bill

Thanks James, got the shifter boot yesterday and already put it in. Mike

Got the latch yesterday. It's already installed and working perfectly. I'll keep your card handy cause the old elky always needs something. Pleasure doing business with you. Jim

Received the hood and tail section of the console today. I'm very pleased with both pieces. Thanks again, and I won't hesitate to recommend you to all my buddy's in the car club and any Chevelle owners. Wally

I received my parts yesterday (shroud & hold downs). They are both in great shape and I'm very happy! Thanks again. Terry

I visited your facility today and purchased some parts. Your help is truly appreciated. One of the parts was a relay for the heater blower motor for a 72 Chevelle. I thank you for your help and the parts. Lou

I have visited your web page and thought it was really sharp! Marilyn

Received the tail lights this afternoon. I am very pleased with them. Hope to do business with you in the future, or send you some from someone else. Thanks once again. John

I especially like the restoration page. Jason

I wanted to take the time to tell you how much I like dealing with you. I have purchased the factory gauge package and the drivers door tinted glass for my 67 Chevelle SS from you so far and each part has been exactly what you said in exactly the condition you stated. It's so refreshing to have someone that is honest and knowledgeable about these things. Thanks and keep up the great work. Rick

I wish all folk trying to buy things over the net as good an experience as we had with you. We look forward to doing business with you in the future. Loretta

Installed the housing last night. It shifts like it's fresh off the showroom floor! Thanks again. Neal
We appreciate all of you that have
taken the time to send us your comments.
We appreciate and welcome anything you have to say
about our products and services!
James Sloan
Sloan's El Camino/Chevelle
1-760-949-6724

[Home] [Products] [Customers' Page] [Our Company] [Restorations]
[Catalog] [Customer Comments] [Contact Us]