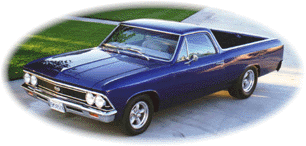 Parts Catalog...
Our Newest Parts Catalog is under construction.

Please give us a call at 1-760-949-6724 for current used and new parts prices.

Our on-line catalog is in a .pdf format, and can be viewed with the Adobe Acrobat Reader available for free by clicking the Adobe Acrobat Reader icon.

Once you have the Adobe Acrobat Reader installed on your system, you can download our catalog by clicking the link below. Once downloaded, you can view and print the catalog as needed.
Sloan's El Camino/Chevelle
Parts Catalog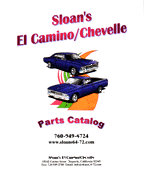 To download it free,
Click Here!
NOTE: Prices are subject to change at any time.
Sloan's El Camino/Chevelle
1-760-949-6724

[Home] [Products] [Customers' Page] [Our Company] [Restorations]
[Catalog] [Customer Comments] [Contact Us]